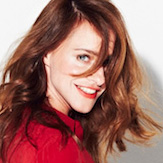 Fashion Hits Playlist (Stand: 2017)
Versace on the floor.
Wenn in einem R&B-Song ein am Boden liegendes Kleid nicht einfach "Kleid" genannt wird, sondern der Name eines großen Modedesigners ausreicht, dann höre ich zweimal hin. Modejournalistische Sorgfaltspflicht. Wenn dabei mein Kopf zu nicken beginnt und schließlich die Hüfte kreist, dann füge ich den Song zu meiner
Spotify Fashion Hits Playlist >>>
hinzu. Dort befinden sich nun diese Musikpralinen (mittlerweile über ein Dutzend), die ich z.B. beim Packen für die Fashion Week höre oder mit der Kollegin auf dem Hotelzimmer. Oder mit der Freundin im Cabriolet auf dem Weg nach Florenz.
15 Fashion Hits
1. Glamour Girl, Louie Austen (2006)
Lieblingszeile: "I'm going to look in for the glossy magazines about fashion and style"
2. Versace on The Floor, Bruno Mars (2016)
Lieblingszeile: "I unzip the back to watch it fall"
3. Too Funky, George Michael (1990)
Lieblingszeile: "I watch you drinkin' all that cheap red wine, oh!"
4. Harajuko Girls, Gwen Stefani (2004)
Lieblingszeile: "Yohji Yamamoto, I'm hanging with the locals"
5. I Want Your Love, Remix by Lady Gaga und Nile Rodgers (2015)
Lieblingszeile: "To try my love and see how well it fits"
6. Fashion Killa, A$AP Rocky (2013)
Lieblingszeile: "Jean Paul Gaultiers cause they match with her persona"
7. Fashion, David Bowie (1980)
Lieblingszeile: "Fashion! Turn to the left"
8. Mary Jane Shoes, Fergie (2006)
Lieblingszeile: "When I wear my Mary Jane's shoes - I can escape from a blues"
9. Vogue, Madonna (1990)
Lieblingszeile: "Strike the pose there's nothing to it"
10. Glam, Christina Aguilera (2010)
Lieblingszeile: "Runway on fire, fashion gods inspire"
11. Jacques Gelee, Udo Lindenberg (1982)
Liebingszeile: "Samtblousons von der Firma Verrutschti"
12. Suit & Tie, Justin Timberlake feat. Jay-Z (2013)
Lieblingszeile: "This is truffle season – Tom Ford tuxedos for no reason"
13. Fuck Me Pumps, Amy Winehouse (2013)
Lieblingszeile: "You can't sit down right 'cause your jeans are too tight"
14. Tight Pants, Seeed (2005)
Lieblingszeile: "Ratlos guckt sie in den Kleiderschrank"
15. Where Do You Go To My Lovely, Peter Sarstedt (1969)
Lieblingszeile: "Your clothes are all made by Balmain"

Newsletter
Photo Credit: Catwalkpictues