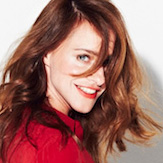 Summer things, you do (not) need to buy
1) Dress and blouses made of 100% viscose. They only look good just after a good steaming. Otherwise if you wear them at the office, to the beach, fold them or take them out of a suitcase, they wrinkle too easily and end up looking cheap. A smarter choice would be either linen or silk crêpe – these also wrinkle, but they are supposed to and they do so ever so stylishly.
Trust me. I have tested this multiple times, even with the H&M dress above. Viscose-only clothes are simply unusable! Jersey is so much better and even satin or linen work – these fabrics are indeed slightly more expensive, but at least not a waste of money.
2) Cool "easygoing" and totally pretentious cotton tank tops. The category features different versions of the easygoing tank top that actually cost over 500 euro. If you ask me, not so easygoing. Mainly because you can find the real thing for under 20 euro at H&M, made of 100% organic cotton jersey in the Studio Collection/Conscious. If you want to look like you are not trying too hard, just don't.
The H&M tank top has a wide easy cut. Size S fits like a M, and it is meant to be worn easy, great with shorts and jeans. And that washed organic cotton feels like a vintage favourite piece – love it!
3) Tops that look like your grandma's crochet table mat. I can understand why ASOS decided to copy the volant bustier by MSGM – what I can't understand however, is why they couldn't come up with a better copy of the beautiful, but – at 500 euro – pricey original. To try and copy the acrylic version with my sewing machine, well that would just be the height of unsophistication altogether!
The MSGM top is made out of a cotton blend with stretch fibers (85% cotton, 15% polyamide and elastane) and just by judging by the picture, it looks wearable. The Asos version on the other hand does not.
4) Expensive designer espadrilles. Espadrilles are the simplest of shoe work – once the shoe for the poor, they later became a fashion item for the beach and more recently for the city too (more about their origins here). It is pure madness to spend 500 euro for this season's designer versions by Valentino, Lanvin or Gucci. Even if you don't mind the amount, the whole idea of spending that kind of money for rope seems silly, to say the least. There's an endless range of espadrilles on yoox.com, quite reasonably priced too – also designer ones. Check out the shopping gallery at the bottom.
This season's espadrille wedge sandal "Glyn" by See by Chloé features a black matt leather ankle strap and retails at 175 euro. The older model by Anaki comes in two combinations of blue suede/black matt leather or orange suede/black matt leather costs only 67 euro. Plus I actually find them nicer. Both models (the Chloé and the Anaki one) feature the classic braided jute wedge with a black-and-white rubber sole.
Online shopping gallery
Photos by: Net-a-porter.com, H&M, Matchesfashion.com, Asos, Yoox.com