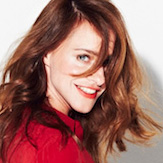 Summer 2016 Color Trends
Remember those old photos you keep buried away in shoe boxes? Those awkward proofs of past wardrobe malfunctions, weird looking knitted sweaters and odd color combinations – you know what I'm talking about. All of a sudden we find those pictures the epitome of cool again. I even set a picture of myself wearing my multi-color 80s sweater as my profile image on WhatsApp.
Pantone
, a.k.a the color oracle company of the fashion industry, introduced 10 new colors for the Spring/Summer 2016 season – big fashion houses knew about this long before us, of course; they pay for big news like this. Two of these summer colors became this year's color of the year: "
Rose Quartz
" and "
Serenity
", a pale pink and a sky blue. It is the first time two colors are introduced as Colors of the Year, in an attempt to transcend gender norms and break away from "typically feminine/typically masculine" color preconceptions. Today men wear pink too. 
Icon (Welt) conducted an interview with Laurie Pressman, Vice-President of the Pantone Color Institute.
This season, fashion appears more reconciled with the colors of our childhood – unpopular until recently – and for that we also have Gucci's nostalgic fever and the brand's Artistic Director Alessandro Michele to thank.
These are fashion's colors for Summer 2016
Rose Quartz pink became instantly iconic in 80s classic movie Dirty Dancing (1987) and the dress Baby wore in the famous dance lift finale. Fashion experts now say the pale shade is experiencing a huge revival, also working in synergy with colors like "Serenity" (sky blue), "Lilac Grey" (grey with purple undertones) and "Peach Echo" (coral). Just heavenly!
This season's colors are care-free and sunny. Buttercup yellow is definitely one of the color trends that caught our attention on the runway. Isa has joined in the trend since Christmas, by self-selecting her "Buttercup" gift: a Chanel handbag in that yellow shade, worn incessantly cross-body with pretty much her entire wardrobe. In the summer it will look divine on top of a turquoise dress.
Yellow tops are just predestined for those white jeans we all love to wear in the summer. But apart from the classics, this year yellow finds its unexpected match in a light shade of brown called "Iced Coffee". Designer Jonathan Saunders combined these colors in their more glacé variations in his last show in London.
Splash of yellow
Another dominating color trend besides white and yellow is the blue/red combination. No hesitations necessary this summer, just embrace the trend and throw together these four vivid shades: sky blue, bright blue, bright red and coral, an orange-toned red.
The most striking blue/red combinations on the runway
A breath of pink; this is how one could describe the new trend color "Rose Quartz", a soft and delicate shade that can be found in outfits with gathered ruffles around the neck and décolleté by classic luxury brands like Chanel, Gucci and Dior.
The "Rose Quartz" palette of Chanel, Gucci and Dior
"Fiesta" red and bright green are this season's outstanding choices for an exceptional evening look. Designers showed overalls and flowing evening gowns echoing the 70s and power-dressing looks reviving the 80s.
Green and red: the unexpected evening choices
Photos by: Catwalkpictures