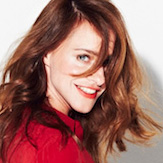 Der Clogs-Profi
Swedish Hasbeens-Erfinderin und -Designerin Emy Blixt exklusiv für Modepilot über ihre Clogs-Kollektion für H&M (ab dem 20. April):
Hasbeen-Erfinderin Emy Blixt
Modepilot: Was unterscheidet Ihre H&M-Hasbeens von Ihren Originalen?
Emy Blixt: Swedish Hasbeens summer collection is inspired by the 40's, 50's and the 60's. We bring back the great old Sling Backs and the classic Ballet Flats this season. The design for H&M is inspired by the Swedish bohemian 70's style. The best thing with this co-operation is that H&M will give people the opportunity for people to buy Hasbeens for a really nice price. The shoes are still made in wood and vegetable tanned leather and are produced in the traditional way with great handicraft methods. That is also why the collection is made as a limited edition.
Hasbeens für H&M
Modepilot: Wie kam es zur Kooperation mit H&M?
Emy Blixt: H&M is part of Swedish culture since they have always given us Swedish kids the opportunity to afford really cool fashion. They have also impressed us with their collaborations with some of the world's greatest designers so when they contacted us last spring we were really happy. Later on we heard that it helped a lot that the girls at H&M went tapping around their office in our shoes.
Modepilot: Was kaufen Sie sich bei H&M?
Emy Blixt: I buy a lot of basic stuff at H&M and combine it with vintage clothes. I have some great jackets and trousers from the children's department at H&M, it's totally fascinating that I can wear size 170 cl.
Modepilot: Welches Schuh-Modell gefällt Ihnen am besten?
Emy Blixt: I will wear the "lace up wedge" this summer. It feels sporty and fresh and old and retro in the same time. It turned out to be an interesting model probably since it combines two opposites.
Lieblingsmodell von Emy Blixt (H&M)
Modepilot: Inwiefern unterscheidet sich der jetzige Clog-Trend von früheren?
Emy Blixt: During "the Golden Days" in the 70's about 8 million clogs were produced every year in Sweden. During this era we had a clog factory in almost every small village. That is why the wooden shoes give us a great retro feeling and reminds us of our childhood and the time when our parents looked really cool in a pair of High Heeled clogs. Today we can see that people across the world are demanding quality and natural materials that age great and that our grand kids can wear. Clogs are natural and have a plain and simple construction....I guess people got tired of plastic, bling-bling stuff and other bad materials.
Anm. d.Red.: Die Hasbeens für H&M werden circa zwischen 50 und 60 Euro kosten.
Fotos: H&M

Newsletter
Photo Credit: