Again with new designer Rykiel
paris office.
24th
September 2012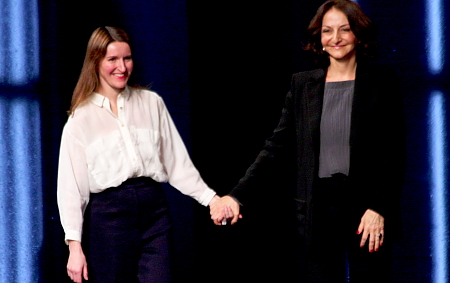 Sonia Rykiel is a classical slowly into the ranks of Ungaro and Cacharel. No sooner have you noticed is the name of the designer, you can also forget it again. So here, for the record. Crichton April, came a year ago is gone again. According to the AFP news agency. As the lady looked like? See picture above, where it enters the stage holding hands with Nathalie Rykiel. Your last collection is not even shown as a show, but only in the showroom. What's that for a bad style! This should have been April Crichton can still indulge, at least they did an great job. It's designed only two or three seasons with Rykiel.
So, who's next? Geraldo da Conceicao. Please do not ask me how to pronounce that. Us this rather unknown designer's a BIG NUMBER, even if no one knows him. Because Geraldo, born in Macao and apparently provided with Canadian passport, has achieved a career track that has it all. Last job: creative director at Louis Vuitton (alongside Marc course), before 5 years at Miu Miu. Previously, Yves Saint Laurent under Stefani Pilato AND Tom Ford and before Martine Sitbon (as it was still a great label).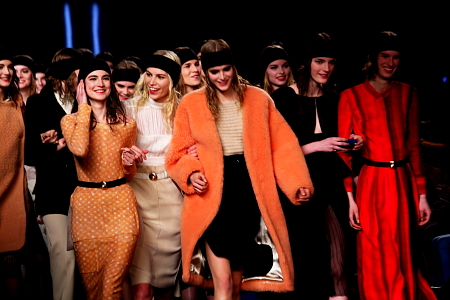 The background: Loyalty Modepilot readers are informed. Rykiel is Chinese today. Dei brand was purchased at 80% of the Fung Brands . Jean-Marc Loubier, Celine ex-, ex-Escada, there acts as CEO of the holding company and has the task of Rykiel to bring back all the way forward in the luxury segment. Geraldo da Conceicao should help. He shows his first collection for the next spring Winter 2013 / 14th The designer change affects only the main line. The branch line RECOURSE in the same hand as ever. Hmm, who's she doing? Nathalie herself? Design Team?
Oh yes, and it is the policy of the house, to put such personal always just before Fashion Week. The strategy behind it remains closed to me: if you want to let go of a message in the chaos of Fashion Week? Probably.
Photos: Paris Office / Fashion pilot