Läden, Schuhe/Accessoires, Shopping
1. Türchen: Bei Tiffany & Co. in München
modejournalistin. 1. Dezember 2012
1. Dezember, 1. Türchen. In der Tiffany & Co.-Boutique in München wird den wartenden Kunden Mineralwasser in türkisfarbenen Pappbechern gereicht. Schöner Schlangestehen fürs Jubiläums-Metall "Rubedo" der 175 Jahre alten Schmuckmarke. Gute Wahl, liebe Alke!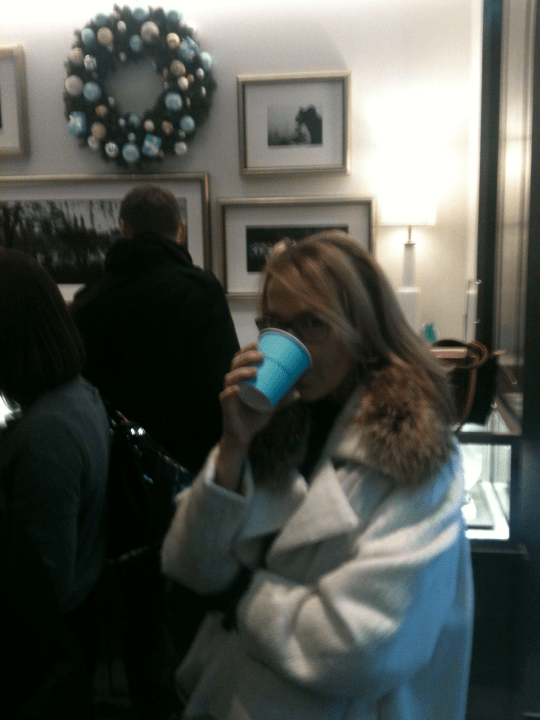 Alke von Kruszynski (meine Ex-Chefin bei der leider kürzlich eingestellten How to spend it und heute Bogner Presse-Chefin) in Vorfreude auf ihren neuen Ring aus einer Legierung aus Gold, Silber und Kupfer (= Rubedo) mit Jubiläumsgravur – ist nur noch in diesem Jahr erhältlich! Doch das war nicht der Grund, warum so viele andere den Laden stürmten. An den Nachbartischen wurde wieder einmal der Knebelverschluss der Bettelarmbänder erklärt. Warum eigentlich?

Es gibt doch sehr viel Stilvolleres, für das man sich samstags in die Innenstadt bewegen muss. Diese Form! Dieses rötliche Metall! Ist doch ein Traum! Ich habe mich ja etwas in den Armreif (rechts) verliebt. But Alke still knows better how to spend it…
Herzlichen Glückwunsch und viel Freude damit!
Fotos: Modepilot/Modejournalistin, Tiffany & Co.