Der (Yves) Saint Laurent Umbau geht weiter
parisoffice. 24. Oktober 2012
Sorry, ich muss das Yves in Klammern immer noch davor setzen, denn ich bin ja schon ein bisschen älter und kann mich nicht mehr zu schnell an umwälzende Neuigkeiten und unnötige Änderungen gewöhnen. Das ist wohl beginnender Altersstarrsinn. Doch zum Thema: Hedi Slimanes erste Boutique im neuen Design für Saint Laurent ist fertig und sie steht natürlich da, wo man heute sein muss als Luxusmarke, in China, konkret in Shanghai.
Architektur und Design: Hedi Slimane (Ich denke, er hat auch die Bilder gemacht. Bei solchen Multitasking-Aktionen frage ich mich immer, wie das intern abgerechnet wird. Bekommt Slimane dann noch mal Extragehalt oder ist das in dem sicherlich – na, da wage ich mal aus dem Fenster – sechsstelligen Designergehalt enthalten? Das würde mich echt mal interessieren.)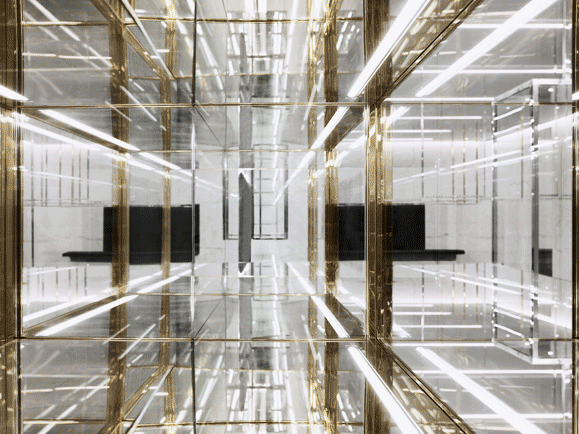 Größe: 310 qm, wow! Dort soll es dann sowohl Männer wie Damen Ready-to-wear geben.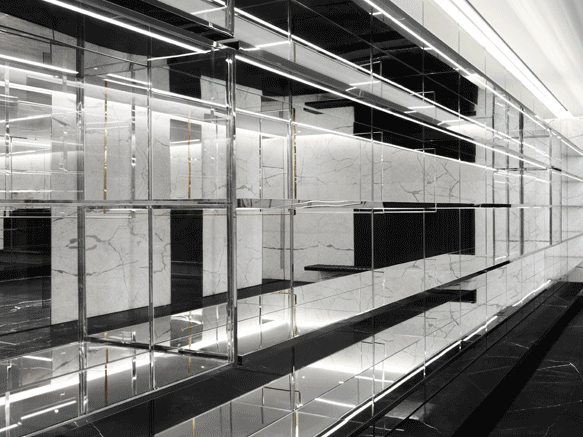 Stil: Ich zitiere: "Transposition of Techniques and Materials of french Art Deco."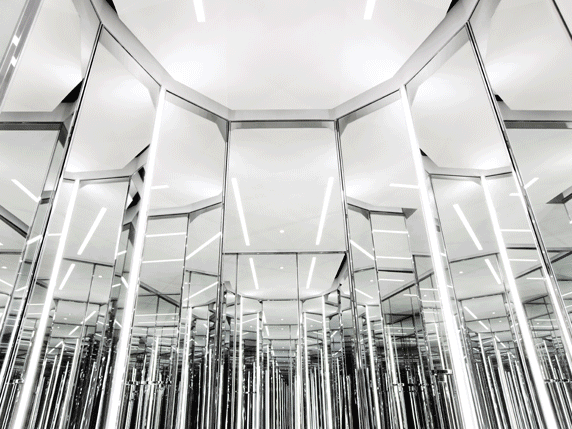 Das Ganze wirkt sehr kühl, aber es hängen ja auch noch keinerlei Kleider drinnen. Ohne Ware wirkt halt alles recht nackt. Es passt zum gesamten anderen neuen Stil des Hauses. Gleiches Design wie das neue Logo, die Verpackungen etc. Viel Marmor, Chrom und Glas. Ja, das sind eindeutig Elemente des Art Deko und dennoch reißt mich der Laden nun nicht vom Hocker. Das hat so einen 90er Touch. Damals richtete man gerne Läden so ein. Aber heute? Hm.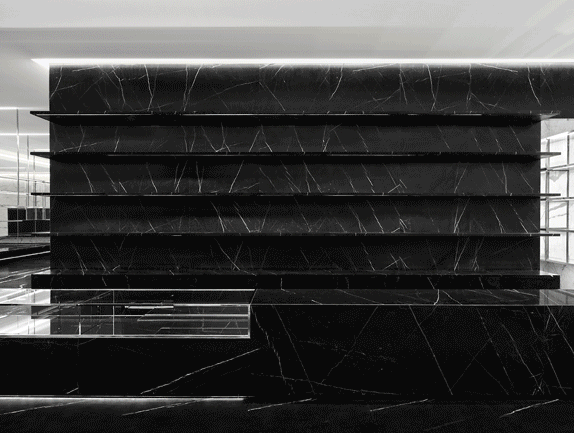 Im Augenblick sind die neuen Margiela Läden, der Balanciaga Laden in Paris und der neue Rick Owens Laden meine Favoriten. Chloé eröffnet zum Jahresende auch was Neues in Paris – designed vom neuen In-Designer Joseph Dirand, der auch das neue Restaurant im Palais de Tokyo gerade umkrempelt. Das ist gerade eher so mein Fall. Finde ich einfach moderner.
Falls aber einer bei Saint Laurent vorbei schauen will: Die genaue Adresse ist: Reel Department Store, 1601 Nonajing Road West, Shanghai.