McQueen – das Buch
parisoffice. 16. Oktober 2012
Geschätzte 5 Kilo schwer und riesig – im doppelten Sinne. Das Buch "Love looks not with the eyes" über das Leben und Schaffen von Lee Alexander McQueen, das jetzt gerade auf Deutsch unter dem Titel "Die Welt des Lee Alexander McQueen erschien, ist ein echtes Sammlerstück.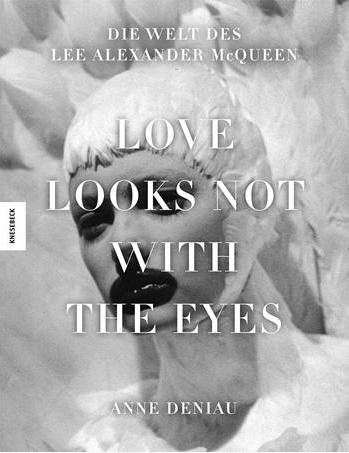 Geschrieben hat es Backstage-Fotografin Anne Deniau, die Alexander McQueen 13 Jahre lang begleitet hatte. Von seinen Anfängen bei Givenchy als Bad Boy bis zum Ruhm unter eigenem Namen. Untergliedert ist es in die 3 Kapitel: Egeria (September 1997 bis Februar 2001 bei Givenchy)), Allegoria (Seine eigene Kollektion ab März 2002), Elegia (Die Zeit nach dem Tod seiner engen Freundin Isabella Blow im Mai 2007 bis seinem Selbstmord). Nur am Anfang des Buches gibt es einen kurzen Textteil, der Rest sind Bilder. Anne Deniau schreibt: "Ich habe seine Geschichte mit Fotos geschrieben, nicht mit Worten."
Aus 30000 Bildern hat die Fotoautorin 400 ausgewählt.
Deniau ließ als Zwischentitel ab und an seine Freunde zu Wort kommen mit einem Nachwort, wie sie ihn erlebten, wie sie ihn liebten. Alle schreiben mehr oder minder das Gleiche, berichten von seiner Freundlichkeit, seinem Lachen und die "traurige Wut, einen Engel daran gehindert zu haben, seine Flügel zu entfalten (Sylvie Guillem)".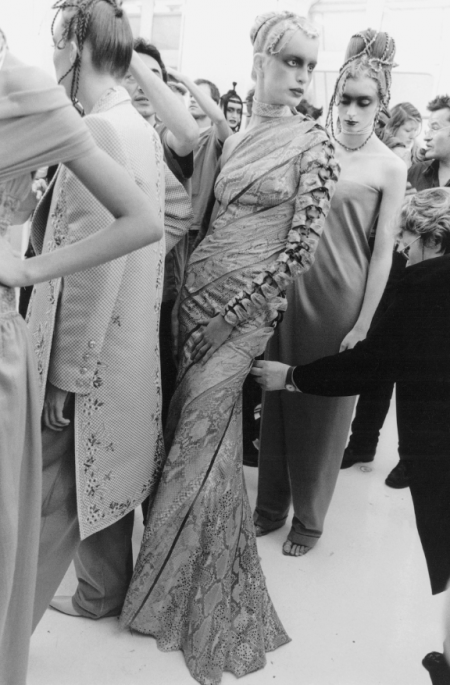 Es ist ein wunderbares Buch, das einem sparchlos und traurig lässt. Und die Überzeugung nährt, dass Mode Traumtänzer braucht, um voran zu kommen. Es gibt doch kaum noch welche. McQueen tot, Lacroix pleite, Galliano aufs Abstellgleis gestellt, Castelbajac muss finanziell zwingend vernünftig werden. Die Mode braucht die Verrückten, Wahnsinnigen, die Träumer und Fantasten. Gibt es sie nicht mehr, dann bleibt nur die ewig gleiche Langeweile.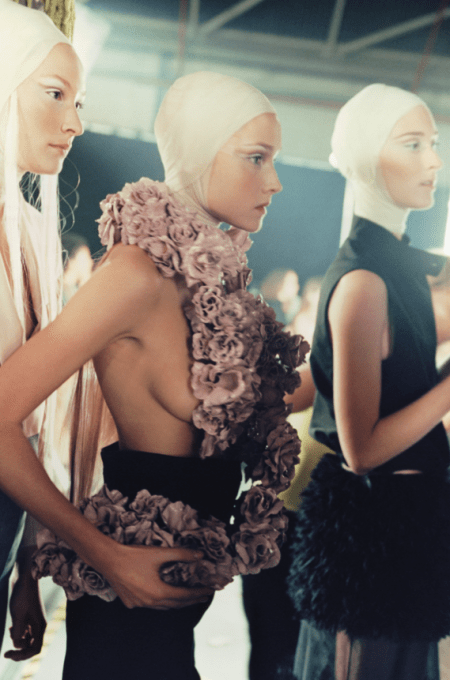 Der Titel "Love looks…" entstammt übrigens einem Tatou an McQueens Arm.
Ich möchte die Bucherscheinung zum Anlass nehmen, auch die letzte Kollektion von Sarah Burton hier vorzustellen, die wir mangels Zeit noch nicht präsentiert hatten. Sie ist sehr wohl wieder im Stil des Erfinders. Burton hat meine Hochachtung für diese Arbeit.
Preis des Buches: 78 Euro, erschienen im Knesebeck Verlag.
Fotos: Anne Deniau vis PR-Bilder Knesebeck, Catwalkpictures